Curly wigs are popular among black women because they give that natural yet elegant look. Some of the trendy curly wig textures in the market include the afro curl, the kinky curl, and the deep wave. However, as time goes by, you might find that your wig is starting to deteriorate either through lack of natural oils, prolonged sun exposure, hard water, or seawater exposure, among other factors. 

So what happens when your curl wig loses its bounce, becomes dry and stiff? Well, lucky for you, there's a solution to this. Whether the curly wig is a lace closure wig or lace frontal wig, cheap human hair wig, or expensive, revitalizing it can lead to phenomenal results. In this article, were going to talk about how to take care of your curly wig, revitalize it back to life when tangled, hence improving its lifespan.
Steps for taking care of your lace wig
Curly wigs such as an afro wigs fiber tend to frizz and tangle quite often when compared to straight or wavy wigs. Therefore, curly wigs usually tend to need more care and attention when it comes to maintenance. Below are the steps to taking care of the curly hair.
Avoid brushing wigs having a tight curl. Always gently use your fingers to remove the tangles.
Brush your curly hair only when wet, using a wide-toothed comb or a Denman brush.
Comb your hair using a large toothbrush only when dry once or twice per day. Excessive combing makes the curly wig to frizz and shade.
When it comes to washing the curly wig, always follow the stipulated instructions. Take precautions when washing the curly hair to avoid scrunching the hair in the water.
After the wash, air-dry the curly wig on a wig stand or mannequin to allow the original wavy hair pattern to return.
Lastly, avoid the application of mineral oil products on your curly wig. It is advisable always to use a water-based spray moisturizer instead.
For the straight or wavy wig, such as the deep wave wig, proper maintenance determines the wig's lifespan and quality. Below are the steps for taking care of the straight lace wig.
Always spray the wavy wig using silicon serum to keep it soft, shiny, and tangle-free. Always use a pea-sized amount of the silicon and, when using the spray, hold the bottle 20 meters away from the wig while spraying gently. In case you apply excessive serum, always rinse your hair to prevent it from looking dull or making it tangle.
Brush your wig twice per day. Start at the tip while gently working your way to the top. In case of severe tangles, always use a wide-toothed comb or a detangling brush.
Always wash the wig at least once per week ensure that the hair is tangle-free first before washing
Avoid sleeping with wet or damp straight or wavy hair.
Air-dry the wig after washing and gently pat it using a dry towel, then leave it to stand. If you prefer rinsing the wig using a blow dryer, always maintain the dryer on medium heat.
Spray the hair using a conditioner then gently brush it. Avoid tugging the wig as it may loosen its weft, causing it to shed off.
Always deep condition the hair frequently to maintain its quality. However, if heating tools often are used the wig, then deep condition once per month. If the wig is chemically treated or colored, then deep condition it twice per month.
Treat the wig like your natural hair, maintaining it using a deep treatment, creams, or even natural oils to avoid making it brittle or dry.
Lastly, when removed, always store the wig on a wig stand or mannequin.
How to Revitalize Your Curly Wig
Detangle Knots Using a Paddle Brush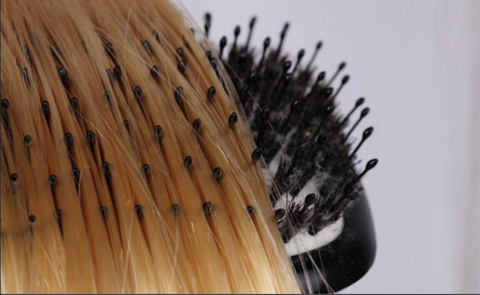 Curly wig, especially if not worn for some time, looks shaggy and naturally knot ups. In some circumstances, the knot usually is severe and seems impossible to detangle. The paddle brush will do the trick and untangle the wig within no time. The brush bristles gently slide through hair without ripping or pulling the knotted hair. Therefore, the paddle brush should be your number one tool to use when revitalizing your old curly wig
Use Conditioning Spray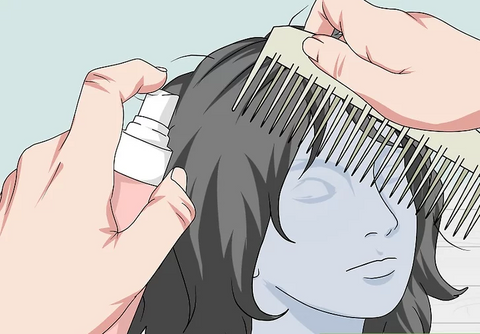 Sometimes to revive that curly wig of yours, all you need to do is spray condition it. The spray moisturizes the wig, making it smooth and appealing. Spray the wig a few inches away to ensure the hair doesn't become loose. Lastly, always leave the wig to air dry after conditioning. 
Soak the curly wig in Apple Cider Vinegar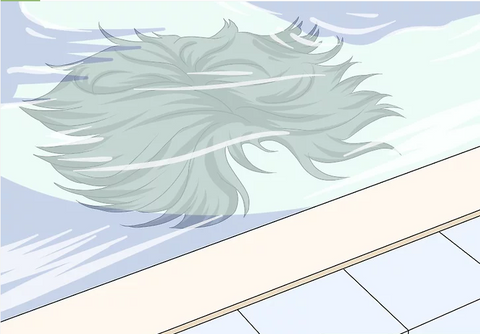 The other method for restoring and revitalizing the curly wig is after detangling, soak the hair for about half an hour in cider vinegar diluted slightly using water. This method gets typically rid of leftover lotions or gels that were there previously in the wig while doing away with their scent too.
Use warm water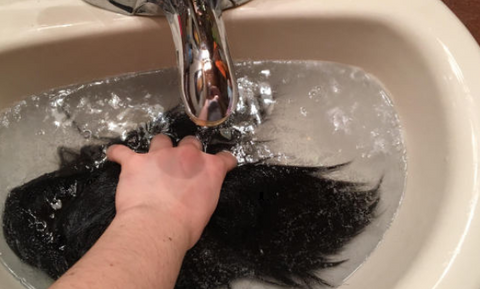 Washing the curly wig using warm water is another excellent way of bringing the hair back to life. Warm the water lightly and carefully dip your wig into it while continuously moving the hair around to avoid burning the fibers. Carry the procedure for about 3 minutes, then remove the wig and let it air dry.
Do a dry scalp treatment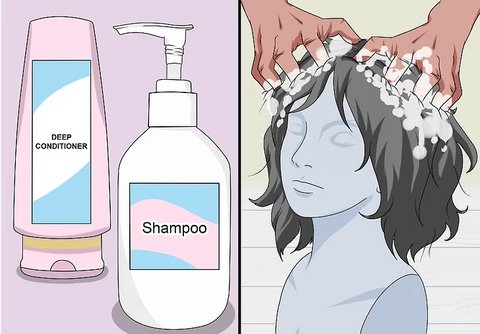 The other method used to revive your wig back to its original shiny and bouncy state is through adding a small portion of olive oil. Sometimes the conditioner doesn't make it to the hairs roots and scalp. The olive oil thus penetrates the hair scalp keeping it moist in turn.
Despite the above methods for hair maintenance and wig restoration, sometimes, it might not work on old wigs that have exceeded their lifespan and are usually beyond repair. In such circumstances, always purchase a new one. Literally,  a good quality lace wig from HeyMyWig has lifespan for about at least 8 months if daily worn and 12 months if proper care. I hope this article has enlightened you with wig management tips.
Couldn't get enough for contents like this? just click HeyMyWig's previous post that you are interested in below to read now ↓
-  How Long Does Sew in Lace Frontal Wig Last?
- Simple Steps! How To Bleach Knots Successfully On Lace Frontal/Closure?
- SYNTHETIC HAIR WIG OR HUMAN HAIR WIG?
- Frequently Q&A About Human Hair Weaves/Lace Closure/Lace Frontal