If you're a lady who loves looking stylish and have a soft spot for human hair products, or perhaps you're new into the weave game or just simply experimenting. Whatever the case, you ought not to worry then worry, as in this article, we are going to talk about all related and commonly asked questions pertaining to human hair weave, lace closure, lace frontal as you might get lost for there is a ton of options available of them.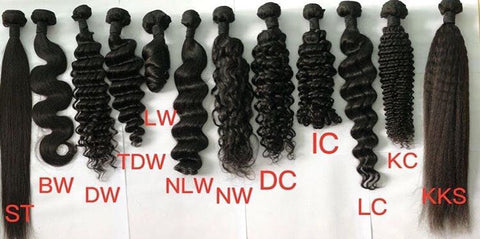 Q: What are the different types of Human Hair Products in the market?
A: There are a variety of human hair products available currently as you are probably heard of hair weaves/bundles, hair extensions, lace closure, lace frontal, hair toupee, lace wig, and more. And it is worth mentioning that hair weaves, lace closure, lace frontal, and lace wigs are in great demand since 2015.
When it comes to which type of weave is right for you, the choice can sometimes be confusing. It depends on different kinds of factors: how long you'd like it to last for, the length and amount of volume you're hoping to achieve, for example.
Q: What is virgin hair?
A: Virgin hair is human hair that hasn't been altered by chemicals, dye, bleach, or harsh washes. From wavy to curly (typically usually 3A - 3B curls), it has a variety of choices of texture. Also, it can be dyed and heat-styled like your own.
Q: What is a hair weave/bundle?
A:  Weaves are a collection of high-quality hair that hair manufacturers source from women who live in rural villages around the world and are willing to sell it for small amounts of money that have been tied up together. It is a form of extensions that can be sewn directly onto flat cornrows.
It is usually classified as Brazilian, Peruvian, or Malaysian hair in the current hair market. However, normally human hair originates from Asia.  "Almost all the hair on the market is made in China, even if the label calls it Brazilian, Peruvian, or Malaysian." Javonté Anyabwelé says
Q: What is a Lace closure?
A:  A lace closure is a hairpiece that made of swiss lace or silk base (a special material that closes to the real scalp) with hair strands attached to them. It is used to cover the crown of your head and mimic your natural scalp, making the overall appearance of the hairline and scalp area to look natural.  It can be added to your sew-in or a wig.
There are different sizes and dimensions when it comes to closures. It usually comes in dimensions of 4"x4", 5"x5", 6"x6",7"x7" or 2"x6" that you can find in today's market.
Closures are also various textures from straight, wavy, kinky to curly that allows you to achieve almost any style you want with a natural-looking part.
Acknowledging the sizes of closure is of great importance especially If you are a wig maker.  Knowing the sizes of your client's head and what size closure will allow you to make very specific custom wigs that you can charge an arm and a leg for.
Thanks to the development of the beauty industry,  even you can choose the lace color that matching your skin tone now. people are fancy of closures with transparent lace and HD lace, which literally serve you an authentic scalp look.
Q: What is a Lace Frontal?
A: Comparing to lace closure, lace frontal has a base that is wider. It usually comes in 13" X 4", 13" X 6"  even 22.5"x4" (known as 360 lace frontal piece)  that covering the front of the hairline, so it looks like your own head of hair. With frontals, you can part the hair in different ways in front— down the middle, side, or wherever else you like while lace closure has limited parting space. Even you can put it on for a ponytail if with a 360 lace frontal piece.
Q: Lace closure or lace frontal, which one should I pick?
A: Literally it depends on your desired look.
For those who desire multiple hairstyles, such as pulling your hair back or prefer more parting space, then a lace frontal will be a good choice. However, the lace frontal is not for you if you have sensitive skin for the hair glue that used to hold the lace frontal might do harm to your hairline.
 If you just want to finish your installation with a natural-looking scalp or have a limited budget,  then a lace closure is good to go.
It is funny that you may mistake a closure for a frontal with certain installs. Sometimes if you can't even tell the difference because you can pluck and tweeze a closure that is wide, just like you would a frontal as well as create baby hairs. No wonder why I have seen girls with closures that look like frontal.
Q: For existing choices of brown/transparent/ HD lace, which one is better for me?
A: You can choose the right one by your skin color. Brown lace is dark skin-friendly, transparent lace is perfect for those who have light/pale skin.
However, HD invisible lace is especially attractive if you are the one that struggles to find pieces that best match your skin tone. If you prefer to changing the color to complement a particular tone other than your natural hue, the option to do so is available.
Choosing the best option for your hair has everything to do with your ultimate hair goals.
Q:  How to install lace closure/lace frontal?
A: Actually it is not hard to do so. Either you can sew/glue it down or make it into a wig.
- Make sure you braiding your hair down to make your closure to lay down as flat as possible to create a natural look.
- Also it is important to make it secure. If your closure is on a wig, you can secure it down with straps or even glue it down with some got2b glue gel. Sew it down If you are doing a sew-in.
You also have options to tape down or glue down your closure. You can use a closure in both a sew-in and a wig. It is highly recommended to sew the closure down to ensure security.  The same goes for when you are creating a wig with a closure. This will allow you an accurate amount of space to work with.
-Sew the remaining tracks to your wig or on the rest of your head.
-Customize the hairline by plucking or add some concealer or foundation to tint the lace to match your skin tone.
 If you are new to lace frontals or closures,  working with a professional for the installation process is recommended.
Q: How many bundles do I need for a sew-in or wig making?
A: It depends on your preference, like texture, length, density as well as your head size and what type of sew-in you planning to do ( with or without leave-out, with frontal or closure). Typically you can follow the guide below to choose how many you need.
- The longer the length of bundles, the more bundles you gonna need. For example, you may need 2 bundles in 12 inches with a 10 inches closure to achieve a 12 inches look while it might require 4 bundles with closure if for a 24" or 26" look.
- For texture, if you desire a wavy or curly look, 2-3 bundles with closure/frontal are enough for curly hair provides a thicker look than straight hair which has less density.
- Your head size. Normal head measurement is around 22.5 circumferences, the larger the number, the more the bundles you will need than others.
- With frontal or closure? It depends on the size of the closure/ frontal you use. The larger size of frontal/closure you use, the fewer bundles can you use
Q: How should I style and maintain if I have sew-in?
Check out the following advises from Charlotte  to make sure your weave stays in good condition:
Daily: "Moisturise and condition your weave and scalp with light natural oil ."
Weekly: "Weaves need to be cleaned frequently to look fresh."
Monthly: "Visit your stylist every 2 to 4 weeks so he or she can groom and refresh your weave."
Q: How long can I wear a sew-in?
A: The duration for wearing a sew-in depends on factors such as the hair texture, type of weave, and also your skin type. After considering all the mentioned factors, it can be three to four weeks. However, it's worth mentioning that proper weave maintenance, removal, or reinstallation can prolong the lifespan of the hair up to a certain extent.
Q: How frequently should I wash my weave if I get a sew-in?
A: It is recommendable to always wash your weaves less frequently as possible to prevent the braid base from loosening.
Q: Can I style or dye the weave as often as I like?
A: The answer is yes, weaves can be styled, colored, and dyed as often as you like. However, it's worth mentioning that these hair extensions should always be air dried and avoid excessive heating at all costs
Q: Can I use a hairdryer, hot roller, or other styling equipment on my weave?
A: The answer is Yes, if you're wearing a human hair weave. However, when it comes to synthetic hair, always avoid curling tongs and straightening irons at all costs.
Q: Is the sew-in procedure painful? 
A: Certain not. The entire process is usually painless, and it's as normal as braiding your natural hair into a seamless base that's ordinarily flat.
Q: Is it possible to remove a weave by yourself or its best to have it removed in a salon? 
A: Yes, it's possible to remove a weave by yourself. What you need to understand is that weaves usually have corners that are double up using threats to secure the extensions. Therefore, the weave unravels by cutting the supporting threads and can take about an hour, depending on how faster you are.
Q: What hair products are more suitable for my weave?
A: There usually are so many hair products available for you; however, choosing the convenient one entirely depends on the particular texture of your chosen weave. For straight hair, a heat protection spray is ideal. In contrast, for curly hair, a curling mousse is recommendable. Lastly, for a body wave or silk straighten weave, we usually recommend a holding spray use after curling your hair.
Q: Does my weave get damaged when exposed to water e.g., swimming?
A: The answer is no. Your extensions usually look good when wet or dry, as the extension joints don't allow water in. The weave is normally connected perfectly well on your natural hair that it mimics real hair in terms of toughness and appearance.
In summary, you have the option to choose the style that will best fit your needs. Your hair goals will drive your decision. If you are just beginning your lace frontal or closure journey, I hope you can find this essay helpful. Welcome to comment down below if you have something wonderful to share with us!