omes with a unique glueless wig cap with a u-shaped opening, wig clips as well as adjustable straps, U-part wig allows you to achieve an effortlessly natural protective hairstyle by showing your own natural hairline. It also gives the natural hair more breathing space comparing to a full-coverage lace wig, making it perfect for long- time wearing. Thought that's the reason why it is still popular while more and more people pick the versatile lace frontal wig or full lace wig .
Today, we're going to explain how this particular wig can be installed, washed, and also maintained by merely following specific easy DIY procedures, to attain that overall natural gorgeous look.
How to install your U part wig
Proceed by measuring your head and then parting out a section of your natural hair into a U-shaped bundle.
Braid the remaining section of your hair into cornrows and ensure that it as flat as possible. It's worth mentioning that, if you intend to wear your wig for a prolonged period, then having thinner braid is recommended.
On the other hand, if you want to wear your wig for a short duration, then have your braids thicker to make it easier taking off the hair clips.
Attach your U part wig on your cornrows using the hair clips, while ensuring that all your hair tacks in, appropriately. Use a bigger pin to hold your wig stable, and the little combs to securely hold your wig firmly in position.
 Finally, style the U part wig as per your desired choice. You can part it on the sideway, middle, or even pull it back.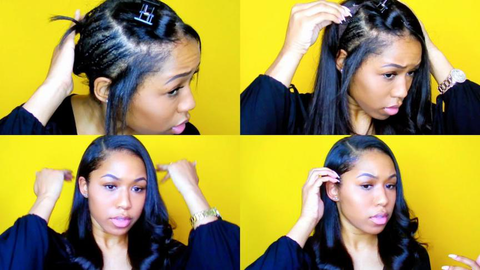 How to wash your U part wig
Add hair shampoo into Lukewarm fresh water.
Take the wig cap off then soak it into the mixture, while making sure that it's submerged.
Let the hair soak in while you gently clean and detangle it using your fingers. 
After you've thoroughly washed your wig, and rinsed it off, apply hair conditioner and let it sit in for 3 to 5 minutes, then rinse it off.
Finally, air-dry your hair and then place it on a wig stand or mannequins head maintain its shape 
How to properly maintain your U part wig 
Use a wig comb to comb or style your wig Gently
When handling the U part wig, always ensure that you use a wide-tooth comb when styling or detangling your hair. Use minimal force while combing through your hair to avoid any hair falling out. You can start with the hair end and then work your way towards the roots.
Wash using lukewarm water
Ensure that the water used to clean your hair is always lukewarm and use shampoo and hair conditioner to maintain your hair glow.
Before using a flat or curling iron, always ensure that you apply some heat protectant oil on your wig to reduce damage when frequently styling it.
 Deep condition your hair often
At least one per week, always add nutrition on your hair by deep conditioning it to maintain its overall shine and bounce.
 Trim the ends Occasionally
The other proper way to maintain your wig is through trimming any split ends. Doing so normally enhances your wigs' lifespan and also minimize hair damage. Trimming should be done after 6 to 10 weeks, to achieve maximum results.
Conclusion
There you have it, how to properly slay the U part wig. Ladies who are all about adding hair volume while protecting their natural hair should not worry as the U part wig is a perfect choice. This versatile, trendy look is sure to going to revitalize your hair, while also ensuring that both your hairline and scalp are fully protected.
 Check out HeyMyWig's Previous Blogs You May Also Interested In Below
>>> How to Cut a Wig into a Bob Hairstyle
>>> How Long Does Sew in Lace Frontal Wig Last? 
>>> What To Look For When Buying A Lace Wig Online For First Time?