The Lace frontal wigs are a popular choice more particularly for those who are looking for styling alternatives without damaging their natural hair. It usually provides a full ear to ear coverage, having a natural hairline that makes it even more appealing. 
However, when it comes to the wig's installation, we usually have three options that involve either using hair clips, Glue, or wig grips. Below we are going to look into the detail, the three effective methods for frontal lace wig installation. 
How to Prepare your hair for wig installation
Your natural hair needs to be prepared well before installing a lace frontal wig to attain that perfect look. The preparation methods usually vary depending on your hair texture, length, or thickness for you to have a perfectly seamless hair underneath.
You can usually twist, cornrow, or braid your hair; however, regardless of whichever method you choose, always ensure that your forehead is dry before proceeding with moisturizing both your scalp and hair.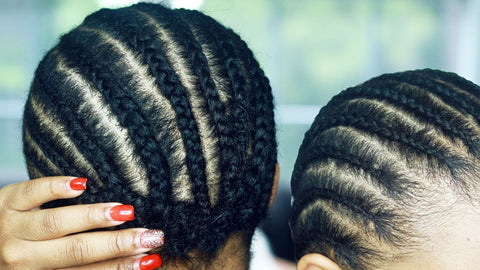 How to install a Lace Front Wig using Glue
Installing your wig using Glue usually requires you to secure your hair with a stock cap or hair clips, just like when you're installing a wig grip. In case you opt to use a stocking cap, always ensure that it's adequately sprayed or has enough gel to keep the edges in place. Below is the procedure on how to install your lace front wig using Glue.

Gently rub alcohol appropriately along your hairline where you're likely to place the wig glue. Alcohol is renowned for removing any oil or substances that can interfere with the Glue sticking on your wig. If you have sensitive skin, use an adhesive product designed for sensitive skin before a wig placement.
Place your lace wig on your head and proceed by adjusting it where you want it to be more secure. In case you're finding it difficult to remember where to place the lace, use an eyeliner to mark the points that will resemble your hairline.
Using the comb end, part the hair above your ear and begin cutting out excess lace around your hairline and ears. Lace installation can either perfect your look or not as you also don't want your ears covered. 
Carefully apply Glue along your stocking cap edges and always avoid getting the Glue on your hair.
Using the cool setting, blow-dry the Glue, and ensure that it doesn't get overly tacky or stringy.
Pull the lace forward onto the glue top and ensure its perfectly placed before pressing it firmly onto the adhesive.
Use a small quantity of alcohol on a towel, carefully proceed by dabbing around your hairline edges to remove any excess glue on your forehead. Be careful not to wipe any glue on the wig laces.
Finally, proceed by styling your hair, and you're good to go.
Lace FrontWig Installation Using a Wig Grip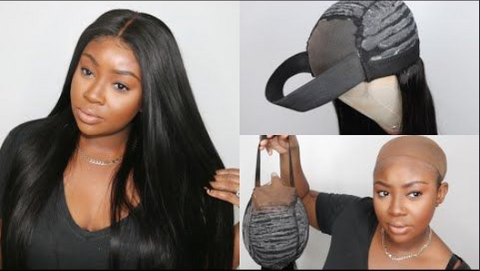 Wig grips are usually flexible velvet fabrics that wrap around your head to secure your wig firmly and properly into position. It's, however, advisable to always choose a band that matches your skin tone to blend well underneath especially when it comes to wigs with no bangs. Below is how to install a lace front wig using a grip.
Prepare your natural hair using a ponytail, cornrows or braids, then use a stocking cap to keep your hair closer to your head to enable a smooth surface creation. To properly secure the wig cap, use hairspray or styling gel followed with a cold blow-dry. If you're wearing a stocking up, always ensure that you trim any excess fabric on your forehead to create a seamless base during installation.
Place a wig grip across your hairline right behind your ears, adjust its size, and secure it ideally on your head using a Velcro strap.
Put the unit onto the wig grip at the front end of your head. Ensure that the edge of the grip blends well with the lace front wig.
Proceed by carefully pulling your hair as per your desire and adjust it where necessary to enable your wig to sit comfortably on your head. 
Clip your hair at the back of any side of your face, then proceed by cutting away any excess lace on the wig front.
Finally, remove the clips attached and style the baby hair as per your desire. 
Lace Front Wig Installation by Sewing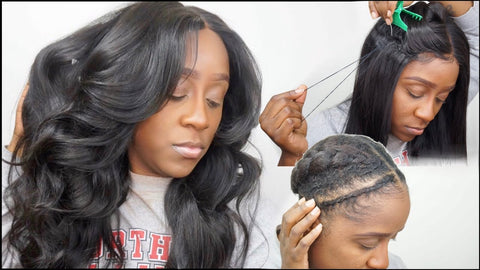 For a long term solution that protects your hair and skin from wig adhesives, sewing in a lace front wig may be ideal. The process is usually lengthy and can require an extra pair of hands. 
Things you'll need
Sharp scissors
Clips
C shaped needle
Thread, e.g., polyester, cotton or nylon
Small bristle brush
Ensure that you cornrow your hair, to have a firm surface for sewing in your lace front wig. In case you're looking for extra hair protection, then using a wig cap on top of your natural braids is ideal. Spraying your hair ensures that you use the same technique to make sure your wig edges stay firmly in place. Below are the steps necessary for securing a sew-in installation for a sew-in lace front wig 
After placing your wig on your head, part the hair above your ear and cut any excess hair or lace. Parting usually prevents your ears from being covered by the wig.
Look for the braids that are closer to the top of your ears and then section out the front of your hair into two different parts using hair clips. Proceed by creating a defined part from one ear towards the other while going over the top of your hair.
Using a threaded c-shape needle, start sewing the frontal edge through the wig caps and your tracks. Continue sewing along the part you just created on top of your head until you reach the other ear. It's worth mentioning that using a few stitches per braid keeps the hair more secure.
Part half an inch of the front section above your ear to create a part that spans into your hairline. Proceed by sewing along the entire region and then stop right before your hairline to enable the thread to be hidden inside your hair. Repeat the process on your whole head. 
To prevent the lace from slipping back, ensure that you sew the lace front into one of the braids that don't have a part. Make sure you always use a thread that's similar to your hair tone. e.g., a black ribbon for a brunette or dark-colored hair and a yellow ribbon for a 613 blonde Wig.
There you go, three of the most effective ways of installing the frontal lace wig. I hope this article was helpful and enlightening.
Couldn't get enough for contents like this? just click HeyMyWig's previous post that you are interested in below to read now ↓
-  How Long Does Sew in Lace Frontal Wig Last?
- Simple Steps! How To Bleach Knots Successfully On Lace Frontal/Closure?
- SYNTHETIC HAIR WIG OR HUMAN HAIR WIG?
- Frequently Q&A About Human Hair Weaves/Lace Closure/Lace Frontal