Wigs play an essential role when it comes to black women's beauty. However, choosing the most natural-looking wig that blends well and also resembles your own hair is necessary. And we know that there are always few aspects that you have to take into consideration  if you want to attain that natural look: 
In this blog, we're going to focus on helping you understand what is density and how to choose the wig density when purchase hair wig online . Especially if it is your first time try out a human hair wig.
 What is Wig Density?
The thickness or thinness of hair on a wig is what is known as wig density. In other words, wig density is defined as a percentage that tell you how much hair is actually on the wig, determining how thin or thick it will look when you put the wig on. The higher the density percentage, the fuller it will look while the lower the density percentage, the thinner it will look.
Different categories of Wig Densities
Density percentage range from light (about 100%) to heavy (about 200%) or extra heavy (250% or above). The most common density is around 150%, which is more mimics the density of the human head closely.
This wig type is lightweight compared to other wig densities. It's usually light that you don't feel it on your head when wearing it. The 100% density wig contains very little hair on the wig cap and is suitable for those who have a natural hair texture that's thin.
130%- Light To Medium Density
This hair density type is ideal for straight, silky hair. It's the most realistic of all densities as its neither too thin nor too thick.
These wigs are usually close to standard density despite them being medium weight wigs. When it comes to full volume hair, the 150% density wig is your perfect choice.
180% - Medium To Heavy Density
This particular density is for those ladies who want that natural look with a little added fullness into the mix. The 150% density is ideal for those ladies who wish to add more bounce into their style.
This particular wig type is high density and is suitable for those women who prefer having a full hair volume. It is also convenient for long hair and for those ladies who prefer a complete hairstyle.
220% and 250% or Above - Extra Density
This particular hair is usually of heavy density, thicker and fuller and ideal for those ladies who want a more substantial mass hair type.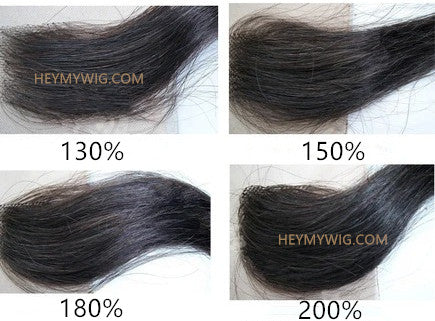 Is there a wig density that is the best?
We can't say that which one is the best, it always depends on what kind of look that you're trying to achieve. Also there are a few things need to be considered when it comes to choosing the right wig density.
The 130% and the 150% wig densities are the most popular and also standard wig densities in the market. These particular wig types are neither too thick or thin and usually have a hairline that's adequately ventilated at low hair density.
However, when it comes to appearance, the 150% density looks more natural with a full density that usually has more bounce.
Proper density Based on Hair Length
It's fundamental to consider the hair density based on your hair length. Below are some of the hair lengths alongside their appropriate masses.
For a 12 to a 16-inch-long wig, a density of 130% to 150% is the proper density.
18 to 22 inches 150% to 180% density is ideal.
24 to 30 inches 180% to 250% density is recommended.
It's worth mentioning that you can wear a wig length with any density you prefer; however, when it comes to having that natural look, we recommend to make your decision by taking the factors below into consideration.  
Factors to consider when choosing wig density
Even with the same density percentage, the final look comes out vary whether you're buying a lace front or full lace wig because of their construction. Lace frontal wig is made by lace frontal pieces and hair weave, which means it has a more solid base than full lace wig that only has a thin lace cap. So, if you want a lighter density, always go for a lace front wig, and if you prefer a dense mass wig, then the full lace is the ideal selection.
The different textures you wear
The texture in most human hair is usually different, same as how they look even with the same density. Curly wigs have a fuller look when compared to straight hair wigs.
On the other hand,with the same density percentage, longer human hair looks less full when compared to shorter human hair wigs.
Your natural hair density
Knowing your natural hair density is essential for blending your wig with natural hair. It's fundamental to choose a mass choice that resembles your hair to achieve that natural look.
Specific wig preference also plays a significant role in determining the type of density you get. For instance, ladies who prefer fuller looking might opt to go for the extra heavy density despite their natural hair is rather thin as compared to those whose natural hair is thick enough but prefer thinner looking hair may go for the light density.
Age is also a factor when it comes to choosing hair density. The older you get, the thinner your hair will be. It is generally recommendable for older women to choose a lighter mass; however, wearing a thicker density will be ideal if you want to look younger.
There you have it, the different hair densities currently available in the market. Understanding wig density is essential when choosing a wig, but keep in mind that the hair quality is important as well. If you ever looking for a natural, 100% human hair with high quality wig, check HeyMyWig's wig collections out! If you have any question when shop wigs on heymywig.com, pls don't hesitate to start online chat for some help!
Couldn't get enough for contents like this? just click HeyMyWig's previous post that you are interested in below to read now ↓
-  How Long Does Sew in Lace Frontal Wig Last?
- Simple Steps! How To Bleach Knots Successfully On Lace Frontal/Closure?
- Frequently Q&A About Human Hair Weaves/Lace Closure/Lace Frontal