Are you fed up with the same hair look all the time and want some changes in your appearance? Well, that's quite natural. It is your right to look beautiful all the time and if you want several changes in your appearance, then, of course, you can go for the latest trends. 
 It's always good to stay up to date with the latest trends than to look for an old fashioned lady. And when it comes to hair and beauty, a woman always has a variety of options to go with.
So, if you are looking for the latest trendy haircut, then go for a bob haircut. Which bob? 
Check out the list below to find out the perfect one for you! 
********
Most Trendy Bob Hair Cuts For 2020
The bob hair cut is never out of date and if we look into 2020, it's the best season to stun with the bob hairstyle.

Chin Length Bob is fabulous for different face shapes as it suits both fine to medium hair. The bleach glorifies the look if you give it a smooth golden touch. The hair becomes thick after bleach and it will create a more healthy and heavy look. The long layers get fluffy and give a good volume. If you have a slim or long face then you can go for this bob.
If you have thin hair, then this casual bob is perfect for you. You don't need to take care of it, just stunning in this style. And if you create a wavy look in this cut, then boom!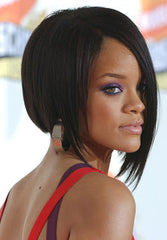 To get a celebrity look, maybe like Rihanna, you can shine like a diamond with the smooth and edgy bob cut. The edges of this hair cut create a more dramatic look this will be the best look if you are willing to attend a party or if you are a model. However, if you are a model, then girl this look is just for you! It will be more flawless if you have a good hair volume and if you give it a little blonde color. What do you think?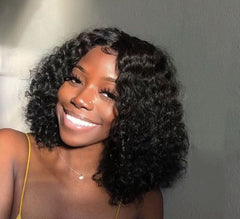 This hair cut is indeed the most favorable hairstyle among the African American ladies. Making a center parting of the hair, these curls will play with your face and shoulders. So, for a smoother cloudy look, you can get this haircut, and of course, as this haircut is famous among Afro American women, I'm sure most of you will go for this hair cut!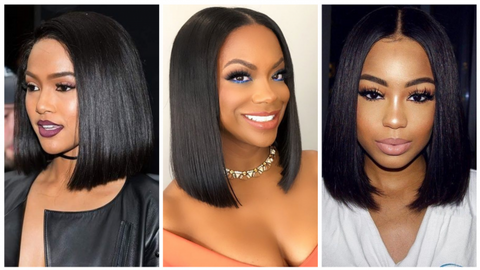 Now, this haircut is best for those who have oval, round, square, and heart-shaped faces. The ends of this haircut are straight, creating a sleek look with the best color combination of blonde hair.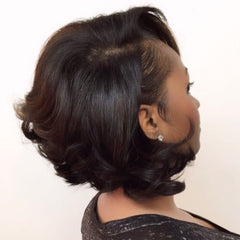 Layering allows you to have a perfect shape and helps with volume.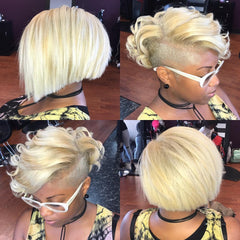 Go for a daring asymmetrical look. All the attention will be on your long locks, and this gives you the freedom to play around with texture.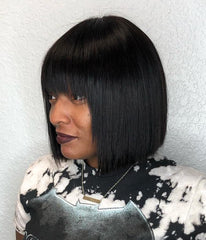 Front bangs immediately provide you a chic, clean flair. Black hair bobs are usually in fashion and can flawlessly body your face and cheekbones regardless of your face shape.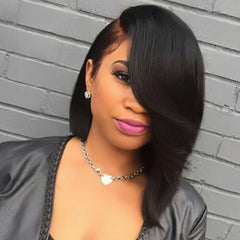 Not afraid to show off your outgoing personality? Then get an asymmetrical bob with that sew-in would be a perfect choice. It's a glamorous way to take hold of interest barring going too over the top. The unevenness of your bob can vary, relying on how giant you desire the distinction to be.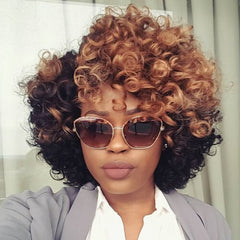 Crochet braids are which truly stand out for a bob hairstyle. The thick hair corkscrew curls that this styling approach gives are certain to trap the eyes of all these round you. Furthermore, they can add quantity and leap to your hairstyle.
*********
Are you still worried to get a hair cut? Because you don't want to lose your beautiful hair for a trend? But you still want to get this trendy hair cut? Well, that's not a problem; of course, you can get a bob cut without losing your hair at all! 
Wondering how is it possible? It's possible with HeyMyWig full lace wigs. Do get your customized HD lace wigs with the best price and quality. HeyMyWig provides a variety of best-customized bob wigs in different colors so go and get your favorite one right now! 
The problem of getting a perfect bob without even getting a haircut is solved now. So, which bob cut are you getting this year? Welcome to comment down below!
 Check out HeyMyWig's Previous Blogs You May Also Interested In Below
>>> How to Cut a Wig into a Bob Hairstyle
>>> How Long Does Sew in Lace Frontal Wig Last? 
>>> What To Look For When Buying A Lace Wig Online For First Time?