For Ladies who want an easy to do hairstyle that's stunning and also suitable to grace all occasions, then the ponytail hairstyle is the ideal selection. It is ideal and quite popular as they are versatile, easy to install, and take off. Many black women and girls wonder whether they can rock pony because their hair is thick and can be challenging to control. Of course, you can! We bring you some of the most awesome ponytail hairstyles you should definitely try. You can also use the hair weave or human hair drawstring ponytail, wrap-around ponytail to create an amazing low ponytail, make a high bun, or other gorgeous hairstyles without a hair straightening iron.
Now, it's time to get inspired for the look you're going to rock on the next night out.
Trendy half-up ponytail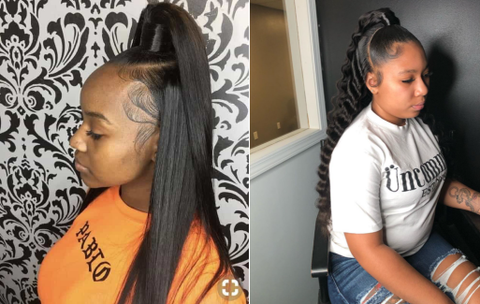 When you're undecided whether to leave your hair down or wear a ponytail, then the stylish half-up ponytail might just be the solution. This unique look features a high ponytail that only uses half of your hair, while the other half is left loose.
The half updo ponytail requires either medium or long hair to perfect it. The overall look is, therefore, a stylish ponytail that's half up and half down.
Braided ponytail with weave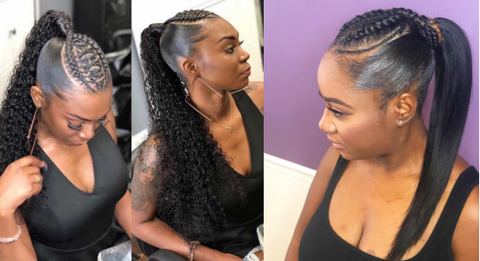 When you want a look that's both unique and elegant, then the braided ponytail weave is the right pick. This style comes with braids that resemble a fishtail style having a combination of thick and thin braids plaited on top of the head.
To finish this weaves' subtle look off, you can also add accessories such as golden hair rings to make that fashion statement. The other alternative for this look is to wear your ponytail weave without a pattern.
Sleek low ponytail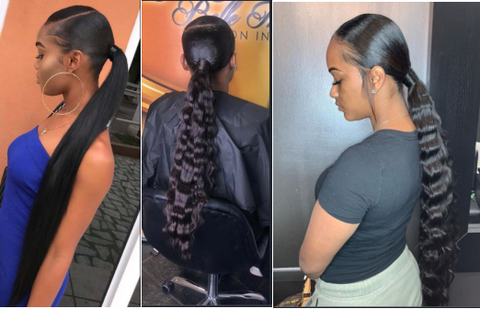 Another trending weave ponytail to look out for is the sleek low. Just as the name suggests, this particular ponytail is elegant, stylish, and straight. The hairdo is easy to achieve, as it usually takes less time to do. The hairstyle also usually has a wrapper that ties the ponytail to maintain elegance.
This sleek low ponytail comes in a variety of colors, lengths, and styles. Whether you want to dress up for that special occasion or you want to go casual, this particular hairstyle will make you look chic. Some sleek low ponytail includes; the sleek low with edges and the sleek low side part, among others.
Bubble weave ponytail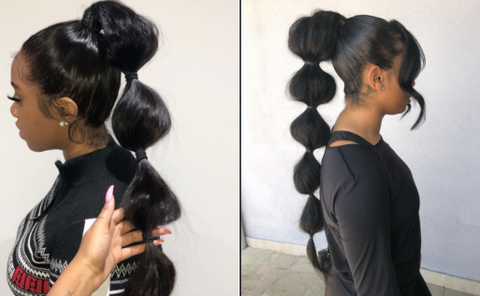 When you want a hairstyle that's creative, trendy, and unique, the bubble weave will do the trick. This look mainly involves placing hair ties on your hair in similar intervals, all the way to the back to form a bubble ponytail look.
This look is usually achievable using braids or using straight hair. The bubble quick weave ponytail comes in a variety of styles that include: the high bubble, two bubbles, double bubble, bubble side ponytail, among many other forms. When you want a quick weave that's versatile, then it's advisable to go for the bubble weave ponytail.
Box Braids Ponytail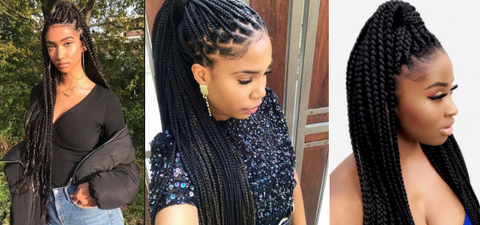 As seen above, braids and ponies are a perfect match. You can make braids and then create a "regular" high ponytail, or you can turn pony into a braid. Yet another style you can try is to pick up your braided hair into a wonderful look.
Now that you have some amazing suggestions for ponytail hairstyles for black hair, you're ready to get your next look. Try different textures, finishes, accessories, and new quirks you've learned here to look absolutely fabulous. Good luck.
 Check out HeyMyWig's Previous Blogs You May Also Interested In Below
>>> How to Cut a Wig into a Bob Hairstyle
>>> How Long Does Sew in Lace Frontal Wig Last? 
>>> What To Look For When Buying A Lace Wig Online For First Time?