Quick weave has become a growing trend because of its affordability and convenience for installation and taking out procedure comparing to the long and tedious process that you experienced when having sew-in weave. In this article, we are going to explain what the quick weave is all about.
What Is Quick Weave?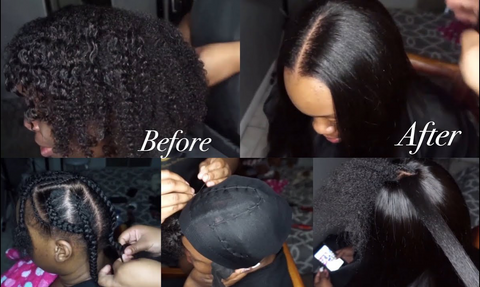 Quick weave is a weaving method that synthetic/human hair wefts are glued to a  protective cap on your head. Under the cap, you can hold up the hair by had it braiding or just using the hardening gel. Most of the beauties get the quick weave style with leave out that shows their own natural hairline.
There are also some talented YouTubers use quick weave to make wigs in few minutes using hair weft and lace closure, which is a good idea for those who wanna get a DIY wig but don't have a sewing machine or don't know how to sew for a sewing machine made wig.
How Long Does Quick Weaves Last?
Quick weaves can be worn for about 3 - 4 weeks if with proper maintenance, a month less than how long a sew-in last.  that all your hair is covered by silk scarfs or bonnet, to reduce friction and also the weave from tangling. For those who have curly weaves, always use rollers, pineapple ponytails, or pin curls to maintain your curls.
How to wear a Quick Weave
Below are what you'll need for installing a quick weave:

Weave extensions, human or synthetic
Hair glue
Protective wig cap
Scissors
Blow-dryer (optional)
Molding gel (optional)
Get started with your natural hair braided,  leaving either a side or center part out if desired.
Next, place the protective cap on the head to cover your hair completely or using a lip or concealer pencil to outline your part on to the weave cap if you desire a part of leave-out.
Glue on hair wefts from back to the front, each weft needs to be blow-dried or air-dried to ensure a successful application.
Style it when the glued process is done!
How to remove a Quick Weave
The first step is to apply an oil-based conditioner on your hair and allow it to sit in for a few minutes. The oil makes the glue on the wefts loosen up, making it easier to remove your weave. Finally, rinse your hair thoroughly and then comb it using a wide-toothed comb.
Is the Quick Weave washable?
Yes, it can be washed. But always avoid using oil-based hair products as they tend to loosen the glue on the wefts leading to the tracks sliding out.
Do Quick Weaves Damage Natural Hair?
Two popular weave installation methods that don't damage your hair are the stock cap method and the liquid cap method. The stock cap method is ideal for ladies with longer hair, while the liquid cap method is an effective method for ladies with short hair that can't be braid into cornrows.
How do I cut my Hair Wefts?
Always ensure that you measure your nape back from ear to ear before cutting your wefts to avoid inappropriate cutting.
What's the Best Hair choice for A Quick Weave?
Cheaper weave hair bundles that you can shop from local beauty shop is recommended because the weaves have a short lifespan, and the hair wefts typically are cut during installation. However, for those ladies who prefer human hair feeling, then they can go for the human hair weaves instead.
Quick weave is an excellent choice for women who want a versatile, stunning, and fun look in a short time. It is also a simple & affordable DIY hairstyle that requires low maintenance when comparing to the sew-in weave. Last but not least, it causes less tension on your natural hair comparing to sew-in weave and that's why it can be an ultimate protective style for girls.