Human Hair Bundles Length Guide
- LENGTH GUIDE
How a Bundle is Measured?
The measurement listed in option reflects the longest point of the hair, not the shorter layers. It is measured from the root of the hair around the crown to the ends. When measure curly and wavy styles, the hair need to be pulled straight.

Choose The Right Legth
Typically, curly hair looks 2-4 inches shorter than straight hair but even shorter depending on how tight the pattern is. There also may be slight fluctuations in length depending on how it's installed and your height. The length guide is an approximation, you will need to take your height as well as the texture you are purchasing into consideration.
Different Pattern in Same length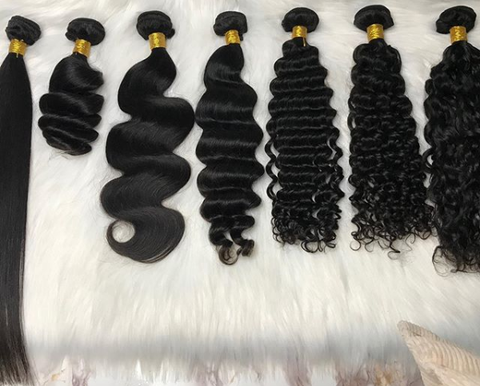 How Each Length Looks (Approximate Effect)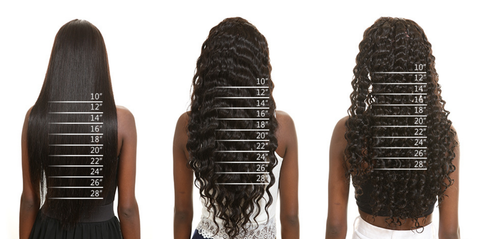 - HOW MANY BUNDLES NEEDED FOR A FULL HEAD SEW-IN

 OR WIG MAKING?
It depends on your preference, like texture, length, density as well as your head size and what type of sew-in you planning to do ( with or without leave-out, with frontal or closure). Typically you can follow the guide below to choose how many you need.

- The longer the length of bundles, the more bundles you gonna need. For example, you may need 2 bundles in 12 inches with a 10 inches closure to achieve a 12 inches look while it might require 4 bundles with closure if for a 24" or 26" look.

- For texture, if you desire a wavy or curly look, 2-3 bundles with closure/frontal are enough for curly hair provides a thicker look than straight hair which has less density.

- Your head size. Normal head measurement is around 22.5 circumferences, the larger the number, the more the bundles you will need than others.

- With frontal or closure? It depends on the size of the closure/ frontal you use. The larger size of frontal/closure you use, the fewer bundles can you use